Swimming Lessons for Ladies
Dedicated Female swimming instructors for ladies in Singapore
Ladies swimming lessons
For female adults 18 and above taught by female swimming coach
It is very common for ladies to request specifically for female instructors during lessons.
We fully understand the circumstances and thus we have created a dedicated ladies swimming lessons page just for ladies.
We have since matched many female students with zero experience to our competent female instructors and all of them have learned to swim efficiently and confidently.
Our female swimming coaches are no different from our male coaches, in fact, they are more dedicated, patient and effective when it comes to guiding female students.
However, do note that ladies swimming lesson prices will differ due to the nature of the demand for female coaches.
Here's what we will learn during your female swimming lessons:
Water Safety and Confidence
Improve Stamina & Breath Control
4 Strokes (Freestyle, Breaststroke, Backstroke, Butterfly)
Water Survival Skills
Each ladies swimming lesson is kept at 45 mins long to provide the best learning experience for you.
Why are our swimming lessons so popular with other female learners?

Here are the gender-specific benefits that swimming is relevant for adults and especially ladies:
Good cardiovascular exercise for keeping in shape
Swimming is a really good cardiovascular exercise for keeping in shape. The cool temperature of the water forces your body to increase metabolism activities to generate body heat which consumes more calories.
Gentle on the bones
Women start with a lower bone density than men and lose bone mass more quickly as they age. Swimming is gentle on the bones, that is very important as women are at bigger risk of injuries when performing stressful physical exercise.
Stress reliever 
Women today may even be working harder than men. Swimming can be really relaxing and stress relieving for the modern-day girl boss.
Having a weekly swimming routine to help clear your mind is healthy for your mental health and helping you be ready for the next week of challenges.

Dedicated swimming lessons for women conducted by female instructors in your private pool.
Our female swim instructor will travel to your condominium to conduct private swimming lessons to avoid distractions from public pools, bringing you to peak performance during your swim lessons!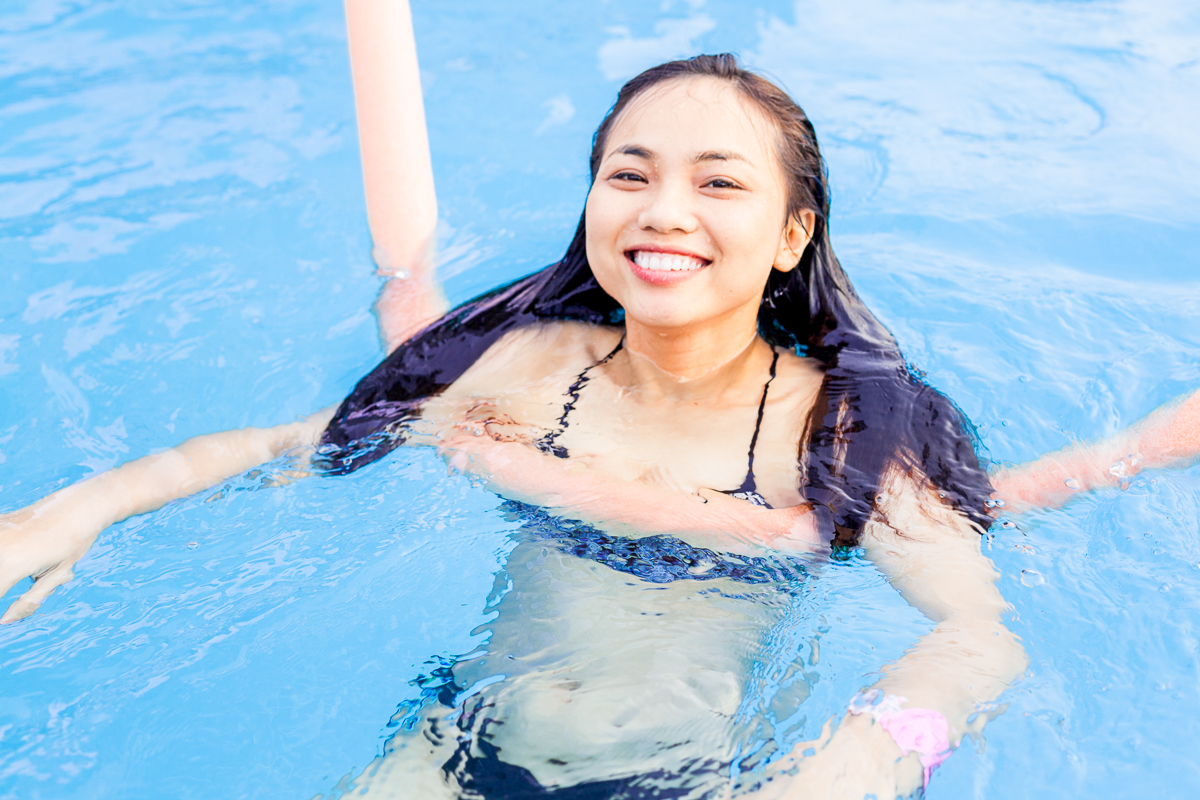 Ladies can keep fit, stay in shape and gain swimming mastery today
*As female instructors are in very high demand for both female students and kids, the female swimming instructors' fees will be slightly higher.
$75 per lesson

Each session is 45mins 
$160 per pax

(

$40 per lesson)

Each session is 45mins 
$140 per pax

($35 per lesson)

Each session is 45mins
$120 per pax

($30 per lesson)

Each session is 1 hour